Features & Specifications
Tube signal amplification; No op-amps
Amplifies, buffers signals: -100dB to +12dB
Independently adjust speaker volumes
Flip to an iPod via front-panel switch
Unsurpassed sound quality, warmth, clarity
For full-range and bi-amplified systems
Optionally separates subwoofer frequencies
Adjustable, smooth Butterworth filters
Dash-mount standard DIN package
Two models: TC-2R, TC-4R. TC-2R has A+B L/R inputs and outputs Sub + L/R high-pass channels. TC-4R is the same but output Sub + Front L/R and Rear L/R high-pass channels.
Preamp

Class-A Vacuum tube signal gain.
Dual stereo inputs with A/B switch.
Independent volume controls.
Crossovers bypassable.

Inputs

Dual stereo inputs with front-panel switch.
Per-channel volume, up to 4x (12dB) gain.
Input impedance 10 k ohm.
Input Sensitivity: 100 mV - 4 V rms

Outputs

Output impedance ~ 1 k ohm.
Discrete bipolar output drivers, no opamps.
Frequency response: +0, -3 dB 20 Hz - 60 kHz
Hum & noise: -90 dB from 20 Hz - 60 kHz

Crossover

Frequencies: 60 thru 125Hz
Slope & Align: 12dB/octave Butterworth
Each channel bypassable to full-range.

Power

Isolated, regulated power supply
Power consumption: 12 Watts.
Turn-on & turn-off muting

History / Warranty

Production since 1992.
Proven reliability.
Warranty: one year parts & labor.

Physical

Dash- or trunk-mount, brackets provided.
DIN-size: 2" H x 6-15/16" W x 5" D.
Weight: 3 lbs.
Chassis-mount, Teflon/Copper RCA jacks
Hand-made in USA, quality parts and build
FAQ
Difference between TC-2r and TC-4r?

Both are identical, except that the TC-2r has 1 sub + 2 outputs and the TC-4r has 1 sub + 4 outputs. When used as a crossover with outputs set in "high pass" mode, each output of either the TC-2r or TC-4r can have an independent crossover frequency. Each output can also be independently set into "all pass" mode so that the full signal passes through with tube gain but without frequency modification by the crossover circuitry.

TC-2R

One pair of high-pass outputs.
Three volume knobs:

left high-pass
subwoofer
right high-pass

TC-4R

Two pairs of high-pass outputs.
Five volume knobs:

front left high-pass
front right high-pass
subwoofer
rear left high-pass
rear right high-pass

Tube life?

The vacuum-tubes are operated conservatively and should last indefinitely. Replacements are available, however, and changing the tubes is easy.

Warm up period?

~20 seconds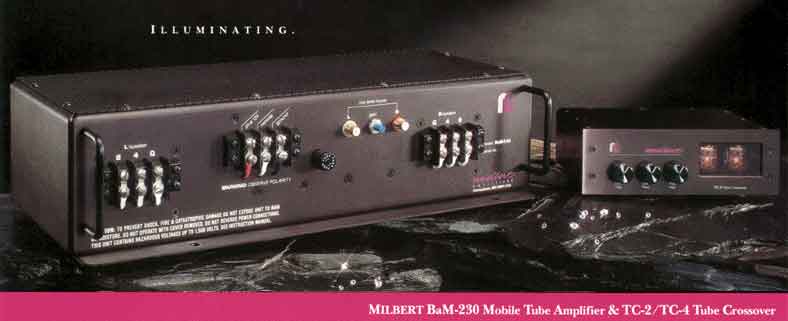 Function & Use
Add vacuum-tubes to any system.
Drive long cables with high-fidelity.
Switch between two audio signal sources.
Boost gain (up to 4x) per channel.
Actively separate lows for subwoofers (audio crossover).
Signal buffering (impedance bridging).

Use as Preamplifier, Crossover, or both.

Amplified by vacuum-tubes, the sound quality is natural and lively. Voices are sensual, without breakup or exaggerated sibilants. Low frequencies are at once quick and full-bodied. Image depth and soundstage are conveyed with the correct size and spacing. None of the threadbare transistory noise normally associated with car audio is present. The TC-2r and TC-4t are designed to be excellent sounding audio components.

The crossover function can be indepdently set or bypassed per channel, allowing the TC-2r or TC-4r to be used as a vacuum-tube pre-amplifier signal level adjuster, with up to +12dB (4x) of tube signal gain and two switchable stereo inputs.

The TC-2r and TC-4r complement the excellent sound quality and reliability of the BaM-235ab mobile tube amp. Every part is chosen for optimum sonic performance.

Both the TC-2r and TC-4r are designed by ear to sound good and built by hand to last a lifetime. Quality parts and Teflon/copper wire are used throughout. The sturdy sports high-quality gold/Teflon RCA jacks and stainless steel hardware that won't strip out. The faceplate is uncluttered and straightforward: Control knobs are single function, easy to grasp, and do not pull off in your hand. Miniature vacuum tubes are profiled through a window in the faceplate.

Built for the car yet comfortable even in the finest home or studio audio systems, the TC-2r and TC-4r are tube preamp/crossovers with finesse, purposely designed to deliver true high-end, home-quality sound for the car.

The TC-4r is the same as the TC-2r but with two more high frequency channels (five total independent volume controls) for use in four-channel systems.

Function of a Crossover

Since half of the energy in the ten audible octaves (20Hz-20kHz) resides below 120Hz, an active subwoofer crossover like the TC-2r or TC-4r can distribute the audio workload between two amplifiers and appropriate speakers. Incorporating the warm sound of tube signal amplification, the TC-2r and Tc-4r are lively, accurate and musical, exciting and natural.

Consider a bi-amplified system comprising a good signal source, a TC-2r or TC-4r tube crossover, a BaM-235ab car tube amp driving good satellite speakers, and a transistorized amp driving a subwoofer.

At frequencies independently set by its internal switches, the TC-2r or TC-4r separates the incoming full-spectrum audio signal into two halves via its smooth 12dB/octave Butterworth filters. The powerful low frequencies then go to the transistorized amp and subwoofer speaker which are designed to best reproduce them. The BaM-235ab and its satellite speakers, relieved of the cumbersome bass, excel at reproducing higher frequencies.

Independent front panel volume controls on the TC-2r and TC-4r allow left-right balance adjustment as well as relative volume adjustment between the subwoofer and high frequencies. This offers a convenient way to turn up the subwoofer when driving at high speeds, overpowering the increased road and wind noise which would otherwise obscure the bass.

In addition to subwoofer volume control, the TC-4r allows independent four-channel high frequency volume control. This overcomes the drawbacks of conventional balance and fader controls which give a volume increase in one channel only at the expense of a relative volume decrease elsewhere.
Purchase
TC-2R tube preamp / subwoofer crossover -- L/R + Sub

TC-4R tube preamp / subwoofer crossover -- F/B L/R + Sub
B-Stock, Resales, etc.
Resales and/or blemished items are sometimes available at discounted prices with performance verification and full factory warranty.
Verification of Authenticity
Verification of authenticity, history, manufacture-date of any Milbert product is available based on serial number and other information.