Features
All tube audio circuitry - best sound quality
30 watts per channel, 2 channels - tube watts sound better
Proven technology, based on BaM-230 design
Versatile input stage with input attenuator, allows for any signal level input voltage
4-, 8- & 16 Ohm outputs allow many speaker impedance options, including 2-Ohm, 1-Ohm, and 1/2-Ohm. Stable at 1/2-Ohm.
Heavy-duty barrier strip, Tiffany gold/copper input connectors, machined and extruded aluminum chassis with stainless steel hardware.
Adjustable feedback.
Easily strapped for mono operation (at double power output) by paralleling inputs and outputs.
Differences, compared to BaM
Refer to the BaM Amplifier for performance data and more information as Liquid is directly related and significantly similar.
Smaller footprint and volumetric size - about the size of three reams of letter-size paper
Slightly lower rated output power (30 W vs 35 W)
Internal fan
Manual bias adjustment
Adjustable feedback
16-ohm transformer taps allowing for various output impedances including 16-ohm, 8-ohm, 4-ohm, 2-ohm, 1-ohm, and 1/2-ohm. Despite little purpose in low-impedance speaker loading, special requests over the years suggested more possibilities in the LIQUID.
Specifications
Size: 8.5 inches x 11 inches x 5 inches
Weight: 20 pounds
Power consumption: Full power: 20 A @ 12 V DC
Measurements: 30 Hz - 30 kHz full power into 8 Ohms
Purchasing
PURCHASES - Liquid is available from stock in America and other countries. Contact us for pricing, availability and details.

B-STOCK, RESALES - Sometimes factory B-stock units (having minor blemishes, etc.) become available, and individuals sometimes sell or trade-in their Milbert Amplifiers products. If you'd like us to privately contact you when these opportunities become available, contact us and make a note of your interests in the message field.

VERIFICATION OF AUTHENTICITY - Contact us to verify the authenticity of any Milbert brand product based on serial number and other information. This is a free service.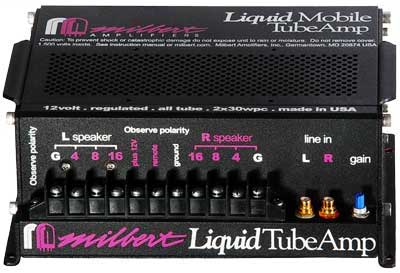 Liquid's rugged chassis includes extruded and also 1/8th-inch machined aircraft aluminum. Connectors and controls are Gold / teflon chassis-mount RCA input jacks, Bourns controls, and heavy-duty barrier strip (#10 binding posts, flexible thermoplastic).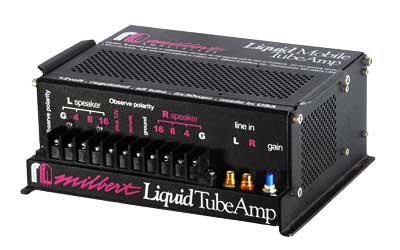 Integral side panels provide sturdy handle reliefs and four-point mounting. Everything is clearly marked. Removable top panel allows internal access. Stainless steel hardware is used throughout. All power and signal connections are present along the main face.