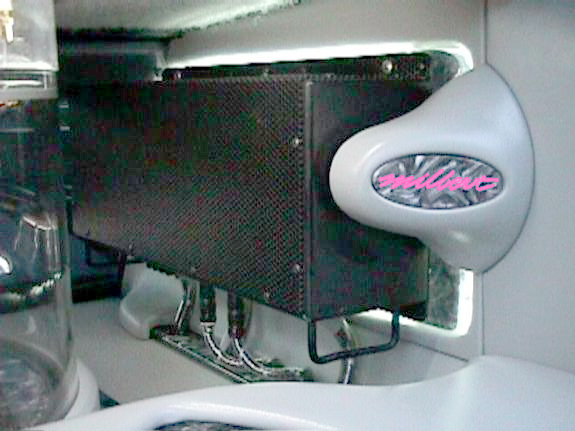 following info adapted May, 2004 from cardomain.com, which was last updated 2002
Mike's Ford: 'ALL4SQ'
This car was formerly owned by an IASCA Autosound competitor. I purchased the car at the 2000 IASCA finals, and I plan to continue to compete in autosound competitions.
The car was built to do two things: display car audio products (Pioneer head, Focal speakers, and Milbert amps) and to obtain a high level of sound quality that yields a live, concert-hall experience. The latter is almost impossible, but we all keep striving!
The equipment used in the trunk is as follows:
Two 15" Focal subs mounted in an 18" Plexiglass tube. The top of the tube exits through the rear deck. The bottom of the tube connects to an A/P membrane to help control the sub.
The amplifiers used for the system are two Milbert BaM-235's used to run the mids and tweeters.
Two Kicker ZR-360's amplifiers run the subs.
The left rear portion of the trunk contains an Optima battery, and the right side holds two Alumapro 15 Farad caps to help stiffen up the power supply.
The dash was completely reworked to install a Focal 11" sub directly in the top center portion of the dash. The sound quality improvement that this makes is amazing -- totally unexpected from what is effectively a front-mounted, center-channel (mono) sub.
See the Focal 6" utopia driver in the Kick pannel.
Notice the expensive Straight Wire "Maestro" white/silver interconnect wiring! Details matter.