Features & Benefits
Disarmingly light-weight, 12 pounds
High-power, small, pinky-weight package
Plays any cocktail of common tubes (30+ types)
Blow-Proof Output™ drives any speaker(s)
Auto-Everything™ - Bias, Load, Mains
Adjustable Headroom for any overdrive
World Power Ready Universal Mains™
P3® phantom power for pedals, active pickups
Greatly extended tube lifetimes
Top-quality throughout, true esoteric pedigree
Stunning transparency, Clarity of tone
Cleaner cleans, dirtier dirties
No bias collapse or overload hangover
Transcends traditional performance limitations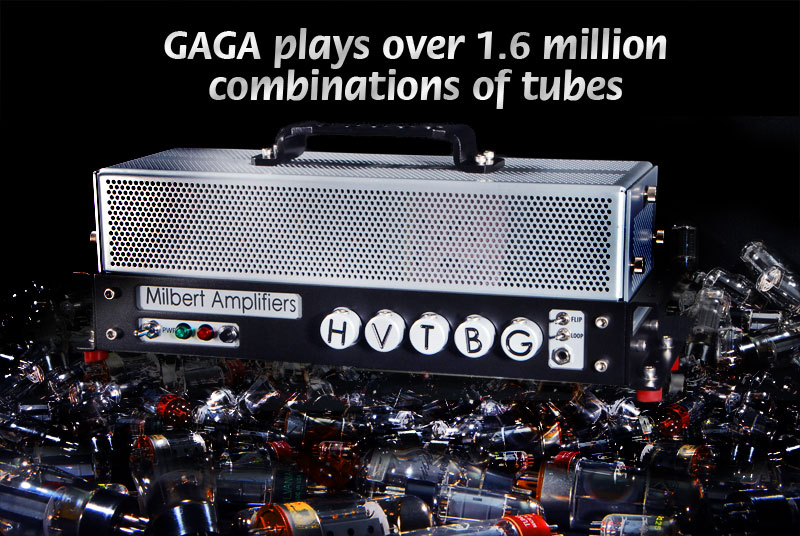 Reviews

Shape Shifter
Milbert Amplifiers GAGA 60-watt tube head
by Rich Maloof / Vintage Guitar, Jan 2014
Milbert Amplifiers has produced a genuinely revolutionary guitar amplifier in GAGA. Lightweight, exceptionally adaptable, and featuring an innovative transformerless design, GAGA may be unparalleled in matching versatility with supremely satisfying tube tone.
Under a hood of aircraft aluminum, GAGA has the capability to use any tubes, auto-match impedance to any speaker, adjust headroom, and provide phantom power for pedals. ...all players really need to know is that a transformerless amp allows pure, unfiltered tube response -- and that without a hunk of iron in the chassis, the head weighs just 12 pounds.
Any common power tubes can be used in any combination of two, three, or four tubes you like. Because the amp autobiases, you can even use mismatched tubes together to shape your tone. ... Without a transformer to drive, the distinctive qualities of different output tubes can be heard unimpeded. And because you can easily swap tubes after pulling off GAGA's top, the amp provides a singular opportunity to explore truly pure tube sounds. We exhausted only a handful of the hundreds of possible tube combinations...
Any speaker cab or cab pair can be connected to GAGA, regardless of load, though for a perfect match of versatility and style check out Milbert's own 1x12" cabinet. It's loaded with a 100-watt Jensen Jet Tornado, weighs under 30 pounds, and has moveable panels to open the back. In a stroke of genius, the GAGA head docks to the low-weight cab, allowing for an easily manageable one-grip trip to the car.
GAGA could feasibly mimic most any tube amp. But well beyond the amp's capacity for emulation is an opportunity to discover entirely new timbres, and to nail a sound that otherwise exists only in a player's mind. ...touring musicians, session players, recording studios, and total tone hounds may find this amplifier undeniable. The GAGA head is available in 30-, 60-, and 90-watt configurations, and each of the lower wattages is upgradeable.


Local Music Gear
"This amp is cool in so many ways! ...you build your tone and get to change it whenever and wherever you want. ...[Milbert offers] one amplifier that can perform as many different amplifiers -- and they did it correctly. ... you can get the sound of any amp you want with real tubes ... and [GAGA] weighs in at [12] lbs. Do I really need to say anything else?"
The 2 minute GAGA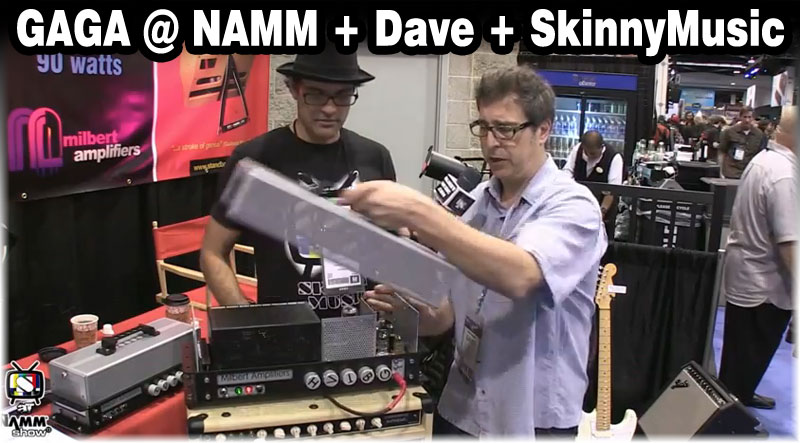 "In 2009, Milbert introduced a tube guitar amplifier which eliminates the traditional audio output transformer and all traditional power supply magnetics by using Berning's patented ZOTL circuit to almost perfectly (and bi-directionally) mate power tubes in any combinations and speaker load, resulting in transfer characteristics being accurately and fully conveyed between tubes and speaker(s)."
wikipedia //
Tubes vs Transformers
Sound Clips & Shows
"Went to the amp show... Most innovative... P3 ... Milbert tube amp with no transformer. It sounds amazing. The builders brought a drummer and bassist with them, and people were jamming all weekend. ... It sounded excellent." »
Tube Cocktails
Any tubes. Any combinations. Any tone.
Auto-bias handles everything. Literally plug-and-play.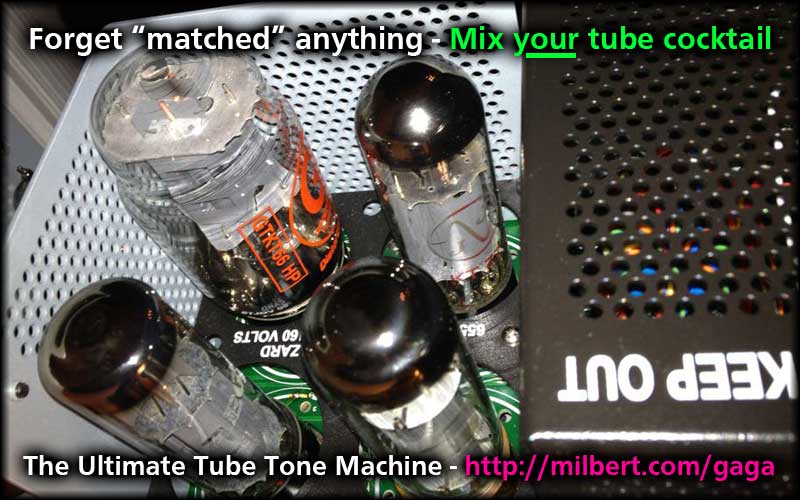 30+ compatible power tube types
2, 3 or 4 tubes may be used.
No settings or "matched" anything
Effortlessly change "the sound"
No output transformer = tubes convey full tone.
Thumbscrew cover exposes tubes.
Above 6550 + 6V6 pull & 6CA7 + EL34 push.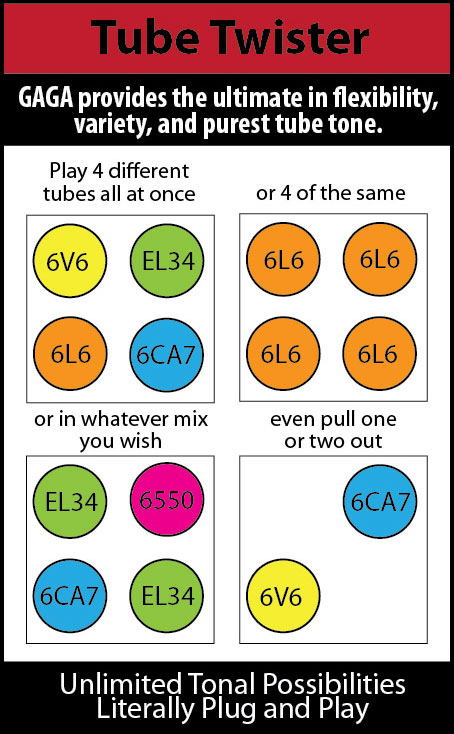 3 Upgradeable Models
GAGA D-30
• 30 Watts full power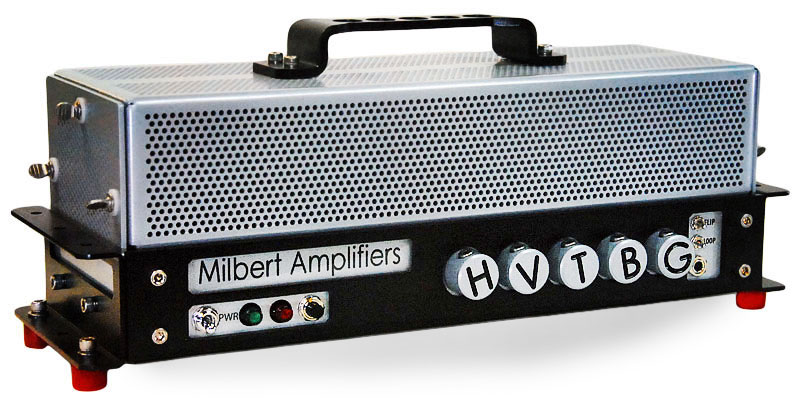 GAGA D-60
• 60 Watts full power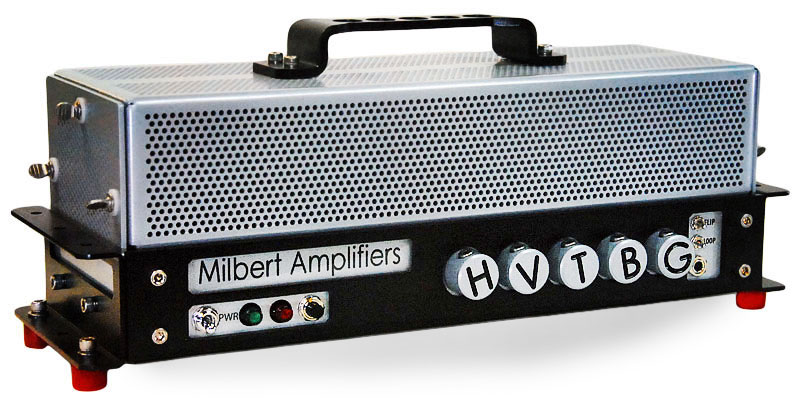 GAGA 90
• 90 Watts full power, universal mains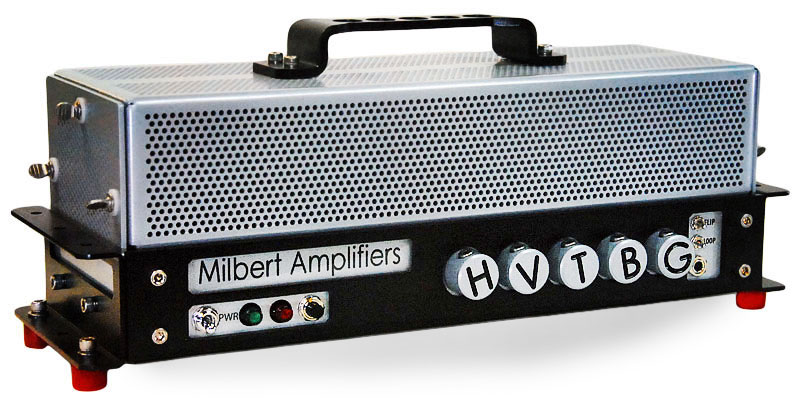 Mounts anywhere
GAGA is available bare, mounted in a 20-watt head case, or mounted in a 1 x 12 cabinet.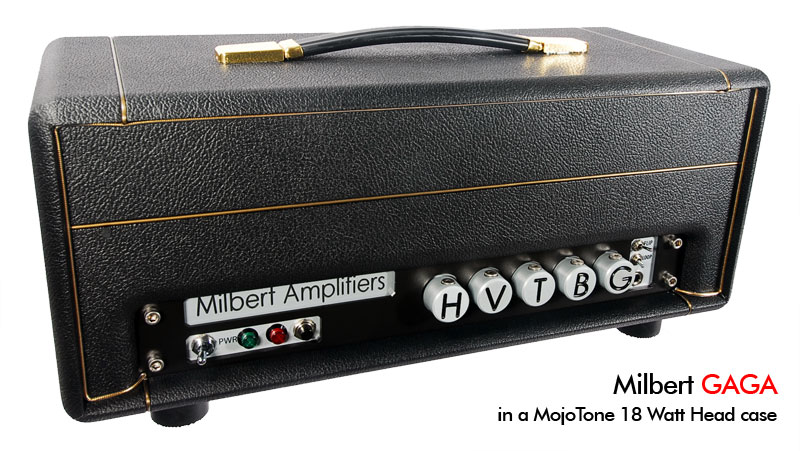 Under 30 pounds total weight -- GAGA + 12-inch neo speaker + wood cabinet.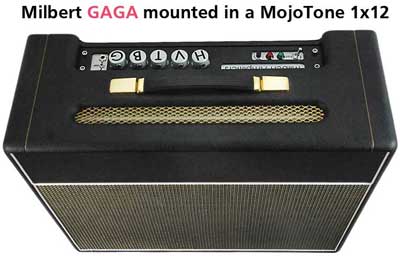 Supreme versatility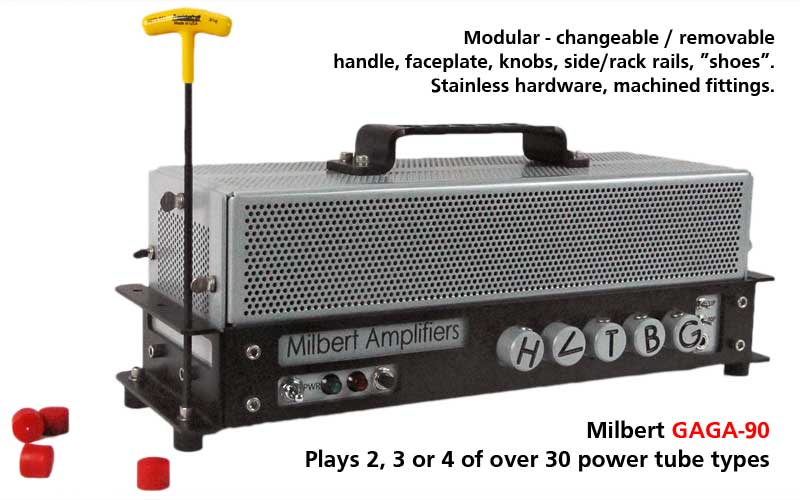 Modular -- changeable, removable faceplate, handle, knobs, side / rack rails, rubber "shoes".
Powder coated 1/8th inch thick machined aircraft aluminum, stainless steel hardware, and wear-resistant fittings that exude uncommon quality and American attention to every detail.
Feature Details
Hallmark, plainly visible knobs provide obvious, elegant control.
H HEADROOM - adjusts power tube distortion versus maximum power output over 10 ranges (actual power depends on how many and which types of tubes are plugged in - a 6V6 vs two 6550's is going to sound and overload very differently than a 6CA7 and 6L6 versus two EL34's!).
V (master) VOLUME - interacts with H to adjust power tube overload distortion from bedroom-quiet up to full-blast levels, letting you define and then play right on that 'edge' anywhere in between or at extreme.
T TREBLE & B BASS - both boost or cut substantially from 'center-flat'.
G (pre) GAIN - allowing everything from silky clean to full pre-amp tube distortion, which interacts with the variable power tube distortion (of a practically unlimited number of possible tube combinations) to make GAGA a chemistry set for tone wizards.
Power switch and P3® (phantom power for pedals and active pickups) pushbutton and indicators are to the left. Also present are voicing and mute/loop toggles. "Standby" is automatic.
Rear panel has parallel Blow-Proof™ speaker outputs that can safely drive any speakers, no speakers, or sustain a direct short while playing; a padded, post-power-tube line-level output (which conveys complete power tube overload tonal character); and Send (with level control) and Return jacks for tube-buffered effects loop.
Inspired by laboratory equipment, everything is serious-gauge, heavy-duty, machined aircraft aluminum and stainless-steel. Top-quality parts, metal panel pots, grippy sockets, Teflon® wiring, etc. are used throughout. Wood, tin-foil, plastics and other cheapness are absolutely minimized or nonexistent. Designed to true audiophile pedigree and built to military standards; no shortcuts taken.
Thumbscrews pop the top for easy tube swap. Removable handle, side rails, faceplate. Faceplate sports clear laboratory glass. Top-notch throughout.
Small size allows 90 watt GAGA to easily fit inside 20 watt Marshall 'small head' case, or almost anywhere. Vanishing weight allows practically effortless "pinky-lift" - or the ability to actually carry your performance amp with you.
Auto-Everything™ means automatic bias (regardless of tube combination, as in never tweak bias again), automatic standby, automatic speaker loading, and automatic power mains - universal power to plug-and-play anywhere.
GAGA applies fresh ideas, serious innovations, top-quality parts, and true high-end design and construction to guitar, bass and musical amplification.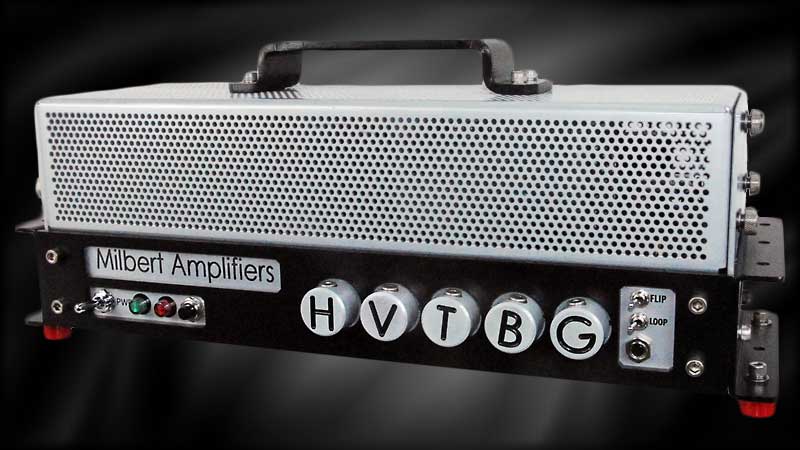 See and hear GAGA at various shows.
Quotes
Rich Maloof, in a review for Vintage Guitar Magazine, Jan 2014: "Milbert Amplifiers has produced a genuinely revolutionary guitar amplifier in GAGA. Lightweight, exceptionally adaptable, and featuring an innovative transformerless design, GAGA may be unparalleled in matching versatility with supremely satisfying tube tone."
Harry B., Nov 2013: "Searching for new amps days are long gone!"
Jonathan R., Sep 2013: "The rave is the amp. The more I get to know the GAGA the more impressed I am. I spent some time auditioning a guitar made by a very brilliant luthier, and did so at [a major studio] in NY. The studio had multiple boutique amps on hand to try, and indeed deals amps. ... There was nothing in that room that could touch the GAGA on any level, except maybe pure dirt (Marshall). The dynamics and responsiveness of [GAGA are] wonderful, and [it has] a very satisfying musicality and beauty of sound."
John Z., Jul 2013: "Outstanding. Innovative. Miraculous."
Review by Local Music Gear, June 2013: "This amp is cool in so many ways! ...you build your tone and get to change it whenever and wherever you want. ...[Milbert offers] one amplifier that can perform as many different amplifiers -- and they did it correctly. ... you can get the sound of any amp you want with real tubes ... and [GAGA] weighs in at [12] lbs. Do I really need to say anything else?"
Feb 2013: "I'd honestly say that this is probably the first modern amp that I've found appealing." »
Jan 2013, Marty Hailey, on Facebook: "These amps are great. I used them exclusively on recording sessions in Brooklyn in 2012 and I highly recommend their tone. Oh, they're also light!"
"Awesome. [GAGA] is one amazingly versatile amp [with] a great set of well thought out features..." - Buzz Goddard, via Facebook, Jan 2013
"[GAGA] is a very versatile amp with a lot of sound - customizable sound. There is nothing like it on the market to my knowledge. It could be the next new thing. Yes, I've heard it and played through it." - carpediem0456, via youtube, Jan 2013
Dec 2012, D. G.: "These are exciting times when ground breaking technology can inspire musicians to perform at the highest level."
Harry, New York (Aug 2012): "i use your amp so much and love it like no other! your customer service is incredible. all my friends who know my gear lust say this is just another amp and i'll buy some other amp soon. they don't know what i found out and that is [GAGA] has all the great tones of the great amps but 'evolved' into one package. i really cannot imagine ever finding anything that does what [GAGA] does. it's like my search is complete!"
"...delicious nuances, shades, and all kinds of lights and shadows and vibrance..."
J. R.: "This thing is insane...really killer tone from my dreams, and I haven't even started mixing power tubes yet."
H.T., studio artist: "wow! I can't believe how great your Hot Mod is. It made an already unique transparent amp into a monster. The amount of gain on tap at the exact 'guitar friendly' frequency [spectrum] and the enhanced tone controls really add to the versatility. The guitar volume control, and no stomp boxes, now allows all the control needed. Really nice work."
"...totally fascinating. i've not seen ANYTHING like this before...there's nothing...even remotely connected to this." »
"...it's silly it's so good...I'm surprised by the smooth decay, how notes hang solid while volume decays... Very smart...you guys are onto something here." — Glenn Feit, producer, guitarist, NAMM Jan 2012
"This sounds f*cking awesome, nice and fat, how it should sound." — Harmonica John, NAMM Jan 2012
"...been playing [GAGA] every day since it arrived and I can tell you, no amp comes even close to producing the 3D sound and depth..." — Harry B., New York, May 2012
"Very nice - rich, warm and fast." — Scott Ambush, Bassist, Deanna Bogart Band, 29 Dec 2011 »
"What I like best is how versatile it is." - Kevin Delmolino, Bassist, Boulder Canyon Band, April 2012
"...control the sound using only your fingertips and the guitar volume knob." — Ricky Parish (Blues Gypsys)
"...i am amazed at the tone tweaking ability...with the Headroom and Volume knobs and ability to change tubes (i used a combination of 6v6's, 6ca7, and el34), i could get just the perfect amount of 'diffusion' i look for, so the guitar either stands out or blends in with the band or mix). the portability is another sweet point, added to the tone tweaking i just described, your amp is primo. ... on to another day of fun playing [GAGA], here's to you for coming up with the best of my forty amps!" -- Sporad Buzzic, New York, Jan 2012
"...bite, growl and edge, but the notes are clear and solid...and it's so light, where does all that tone come from?" — Kevin Delmolino, bassist, Boulder Canyon Band »
"Just played your GAGA...WOW!!! what an amp. What a GREAT sound...I was REALLY impressed. I love people that think outside of the normal box." — Perry Robertson, guitarist, Supervising Sound Editor, co-owner Ear Candy Post »
"Nice. Very nice." —Frank Gambale, Jan 2010 NAMM
"[GAGA] sounds great. Very interesting. Very very. ... I always like the birth of cool new stuff." —Dick Dale, King of Surf Guitar, Jan 2011 NAMM
"I'm excited to see some truly new technology." — Tom Lees, Tech Editor, Bass Gear Magazine, Jan 2011
"The tone grabs you, of course, but then it continues to grow on you. The sounds that I'm getting out of [GAGA] continue to surprise me. The fundamental is there, it's so rich and so right." — Jason Robling, DC Voltage, Dec 2011
"Very nice, very nice. The most striking characteristic of GAGA is the endless note clarity and sustain! ...This is a true studio sound creation tool! Also the silence at idle is welcome and perfect for studio use. Hail GAGA." — David Garfinkle, GarTunes, Dec 2011
"Through a closed-back, 4x12 Marshall cab, [GAGA] breathes fire." — Jason, Orange Whip Experience
"Basically, I near shat myself when I read this thing's specs." »
"I played the GAGA at length and was very impressed by its stunningly transparent, clean tone! The ability to mix up any power tubes ON THE FLY to color the tone is quite a stroke of genius. The scalable power attenuation would allow the player to dial in the amount of girth and dirt desired at stage levels, and the ability to power pedals through ONLY the guitar cable is one of the best innovations I've seen in a long time. Good stuff!" — Roger Hollard, June 2011
"GAGA is fantastic. It reacts to what you put in — totally dynamic. I can totally dig in and then go right to mellow. This is how rock is supposed to sound, smooth as glass, flowing like water, rich like cognac... I love how the tonal color changes so much and so easily, just by how I play... It's every guitarist's dream to have one knob, the guitar's volume knob, that controls the sound, and not be monkeying around back at the amp. This amp does that. I set it up to where I want to be, my general sweet spot, and then do everything right from the guitar. The amp, it almost feels like it's not there. It's just me, louder." — Ricky Parish (Blues Gypsys), Jan 2010
"[GAGA] is the first amp I've ever heard with headroom on the top and bottom...it gives me chicken-skin." —Gary Smyers, audiophile, bassist, Jan 2011 NAMM
"Everybody already gets every sound they want from their pedals. What they need is a nice sounding, light and reliable tube amp. GAGA is that." — Perry Robertson, Jan 2011 NAMM
"...the features are what gives this amp a serious edge - not because they're just silly nick-nacks thrown in to fatten up the deal, but something far more important - they (claim to) solve a whole bunch of critical issues that are related to reliability. also, the ability to autobias any octal tube to the correct current is always a huge plus. for touring musicians, they can plug in anywhere in the world without a problem. and the weight..... no need for matched tubes, total safety of the power stage so that if a tube blows, the amp keeps going... " »
"...i think that the next album to set a benchmark for incredible guitar sound...will likely involve the Milbert Amplifiers GAGA... they've invented a way to build a tube amp that doesn't need [traditional] power OR output transformers, and it apparently quantum-leaps beyond the limitations of every kind of amp that does have transformers..." »
"...everything i HATE HATE HATE about tube amps, this amp does away with..." »
"Instead of foldback and saturation, and then you hit a wall, and then your dynamics are gone - [GAGA] has a bottomless kind of feeling to it. I'm trying to explain how it makes me feel, and the way it makes me feel is goosebumps. That's when I really get interested." — Gary Smyers, bassist
"I love it when people stretch the norms, and [GAGA] appears to have blown them out of the water." »
"...a fantasy version of specs. Crazy! It'll power...9v pedals too? sheesh." »
"...These features will probably attract a lot of people (including myself) who don't want high maintenance amps." »
"...[an] amazing feat of weight to power ratio. This is brand new technology. Some of the amazing features include: Use any octal output tube, no bias adjustment, tube matching not required, auto standby, world power ready (use 90v-240v AC) and no output impedance restriction. This one is a little difficult to wrap my head around I have to tell you. All the guitar amps I have ever owned, worked on or built were nothing like this...ever!!!" »
"Wow...very interesting. This is really something new!" »
"I'm more impressed seeing and hearing your products in person than I was when I first ran across them, and I was very impressed then! Now I'm over the top...Congratulations on having some of the most innovatively thought out products around." — Skip Dorsey, guitarist (Justin Timberlake)
"...certainly one of the most innovative new products i saw at Summer NAMM. very cool..." »
"I guess there is always a first.. and this is it. ...It certainly would be a step forward as it's much more practical for the mobile musician and on top of that, the most important part - the sound quality is probably pristine. Sounds like it in the clips." »
"...in the truest sense, a breakthrough in the most serious end of the audio arts. This circuit is not an incremental step, but a major leap forward in thermionics..." »
"Very interesting. I like the fact that they provide a lot of technical info ... [not] the usual vague promises of 'groundbreaking design' and 'incomparable tone and warmth'." »
"The ability to change tubes on the fly and any combo of tube without a worry blows my mind." »
"Can you imagine the warmth and joy in a manufacturer's heart, to learn ... that people are having to invent entire new words and phrases to talk about their products?" »
"it's way cool. especially if you own a studio, and like the idea of multiple amp sounds out of a single amp. the way this thing is designed, means the sound of the amp is no longer coupled to the transformers." »
"...this is a really advanced amp based on some very cutting edge technology. it is simply amazing what can be done when one breaks from the 'traditional' design process." »
"Well, amps have been using pretty much the same technology for the last 60 years. It's time for a change." »
"...keep going man whoever is making this stuff!" »
"This kind of thing may take 50 pounds out of my rack. I know I am very interested in what is being done. Just what is said about the 20 hertz has me interested." »
"...if it's anything like the milbert amp i used to have in my car it would handle impedence as low as 0.5 ohms..." »
"...the selling point for me was the built in phantom power, how ridiculously small it is and the insane amount of versatility. this is gonna be one ridiculous amp..." »
"...I was thinking the same thing: 'Damn. Why didn't I think of that?' ...it is so cool, I can't even pretend to not like it...for sheer innovation, it is the bees knees!" »
"The sound clips sound pretty good. Nothing too high gain, cleans are full, crunch is 70's style rock or modern pop." »
"The clean is very clean. Nice how it slides in and out of overload depending on how hard I push it." — Brian Meader, Guitar Sanctuary, Chuck Levin's WMC
"No transformers, any valve, auto biasing?? I'll be looking out for more on this baby..." »
"...there are a fair number of touring guys who get their sound mostly from their pedal boards, and the idea of a super light amp that they can use to get a - good - consistent sound every night might be very appealing." »
"...All the most knowledgeable amp [designers] that have commented on this design have only one criticism I have heard: 'I didn't invent it!'" »
"...GAGA sounds like it's what every guitarist needs and doesn't know it yet! ... As an added bonus, you've got an amp that won't make one arm longer than the other..." — Skip Dorsey, guitarist (Justin Timberlake), May 2010
"That amp sounds great. Perfect. Perfect studio amp. You don't even need distortion pedals anymore." — Ryan Curtis, Denmar Guitars, Jan 2010
"What a beautiful sound. Punchy and full and really clear. It doesn't muddy up at all, the high-end doesn't crash or fold over. It stays clean and smooth when pushed hard." — Seth Carlson, SRC Amplifiers, Jan 2010
"Tonally great, there's so much color...it already sounds like there's more there, and deeper, than I get with my [ported 15-inch] bass rig." — Chuck, bassist playing GAGA through single 12-inch Vintage-30 in open-back cabinet., Jan 2010
"Nice smooth compression. This is thirty-thousand dollar sound." —Nate Flom, Jan 2010
"The older and fatter I get, the less I need my gear to weigh. The sound is great, by the way. You can tell that because when people come up and play it, they keep on playing it without fiddling around or tweaking with the controls - and that's because they get great tone right away." —Brian Smith, bassist, Jan 2010
"I get so many different sounds out of this little amp, I could play it for hours." — Dave Koval, Jan 2010
"...just when you've seen everyone doing the same things in different ways, then you see something like this..." — Richard Goodsell, NAMM July 2009
"It is nice to see somebody still thinking." — Craig Anderton, harmony-central.com, 18 July 2009, Nashville Summer NAMM
"...your amp is amazing — it totally wins my 'best new innovation' award." »
"And don't forget the part about being able to lift it with your pinky! I didn't believe it was possible until I tried it myself!" »